Mohit and his wife, a couple from India, arrived in Paris in spring 2017. It was a complete new experience for them: new culture, new language, new job!
We helped them during their arrival to find a house. Our objective, as always, is to help them to feel at home even if they are far from their family. We were very blessed when Mohit wrote to us later that we helped them to get settled « like a member of the Family".
They found their new home in Boulogne Billancourt, they kept their culture and bring a little of India in Paris, but they also adopted the French style: they love croissant and crêpe in their boulangerie, red wine especially Merlot has become an important part of their Sunday dinner, they even enjoy the Paris weather!
After one year, their opinion on Parisians is done: "People here are full of joy and peace and yes Parisian work hard but they party harder."
We really enjoyed taking care of them and felt very lucky to meet them. We even have the chance to celebrate Holy with his wife!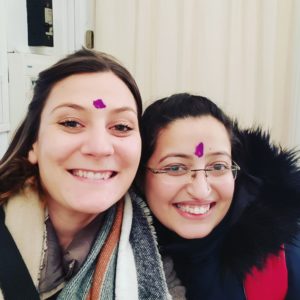 We are blessed to read how they describe Paris after one year : "City of Love Paris is awesome!".
Sophie and Agathe
If you missed our 1 first article presenting our team: Les visages de Sofime Relocation or if you want to discover another story of a wonderful family that lived in France : The Steinbach Family, a lovely human experience!