Going back to work on september doesn't just have negative points ! Paris returns to its normal rythm, and welcome some very anticipated exhibitions this september :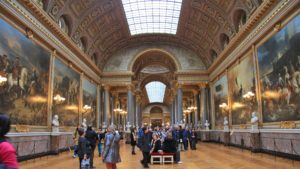 The Luxembourg Museum starts the year with a new exhibition about the golden age of the english painting at the early days of the Royal Arts Academy with painters like Gainsborough, Reynolds, Turner… coming directly from London's famous Tate Britain !
At the Château of Versailles, the exhibition Versailles Revival 1867-1937 starts on november 19th and and will last until march 15th 2020 !
Léonard De Vinci, who is already a figure at the Musée du Louvre, returns to this mythic place with even more pieces for the commemoration of the 500 years of his passing. From october 24th 2019 to february 2020. Careful, you can only do a reservation online… There won't be tickets for everyone !!! Find more informations here
Christian Boltanski, the french plastic artist, photographer, scuptor, painter and filmmaker will take up residence at the Centre Pompidou for a retrospective from november 13th 2019 to marc 16 2020. The museum offers to do the visit based on a labyrinth itinerary to discover the artist in an original way.
Finally, the Grand Palais will welcome the exhibition Henri Toulouse-Lautrec and its famous paintings inspired from the parisian life and its vices, from october 9th 2019 to january 27th 2020.
Some notable events will also take place soon ! You can go to the « Journée du Patrimoine » on 20-22th september, to the Nuit Blanche on october 5th, and at the FIAC on 17-20th october !
A smooth transition while getting back to work !